Edgar Lawrence Doctorow was an American novelist who  wrote twelve novels, three volumes of short fiction and a stage drama. They included the award-winning novels Ragtime, Billy Bathgate, The March, and Welcome to Hard Times.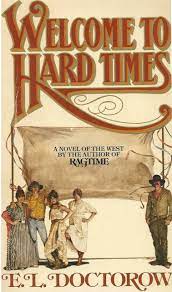 Doctorow was honoured with the National Humanities Medal (1998), the PEN/Saul Bellow Award for Achievement in American Fiction (2012), the Gold Medal of the American Academy of Arts and Letters and the National Book Foundation's Medal for Distinguished Contribution to American Letters (2013), and the U.S. Library of Congress Prize for American Fiction in 2014.
About Welcome to Hard Times
Hard Times is the name of a town in the barren hills of the Dakota Territory. To this town there comes one day one of the reckless sociopaths who wander the West to kill and rape and pillage. By the time he is through and has ridden off, Hard Times is a smoking ruin.
The de facto mayor, Blue, takes in two survivors of the carnage–a boy, Jimmy, and a prostitute, Molly, who has suffered unspeakably–and makes them his provisional family. Blue begins to rebuild Hard Times, welcoming new settlers, while Molly waits with vengeance in her heart for the return of the outlaw.
Abstract: Welcome to Hard Times
Over the course of decades following the publication of Welcome to Hard Times, E. L. Doctorow produced a valuable body of works which, despite their thematic and structural differences, reflect a unique view of American life and values.
While some critics state that Doctorow saw capitalism as the evil foundation of the American society, others contend he was more preoccupied with the stylistic techniques which enabled him to represent a fictionalized history of the United States.
The present article aims to explore the representations of Mikhail Bakhtin's carnivalesque in Doctorow' Welcome to Hard Times and Billy Bathgate.
The article demonstrates that through a Western and a gangster story, Doctorow has challenged many of the structures and hierarchies established in the gender as well as socio-political contexts in which he wrote his novels.
The research shows both novels create significant carnivalesque moments which enable Doctorow to challenge to dominant generic, gender, and social ideologies.
By Maryam Soltan Beyad, Samar Adil Alrammahi, Ali Salami