Elena Ferrante (Italian pronunciation: [ˌɛːlena ferˈrante]) is a pseudonymous Italian novelist. Ferrante's books, originally published in Italian, have been translated into many languages. Ferrante's four-book series of Neapolitan Novels are her most widely known works.
Time magazine called Ferrante one of the 100 most influential people in 2016. Elena Ferrante is the name used by the author of many novels, including the four-volume work titled the Neapolitan Novels.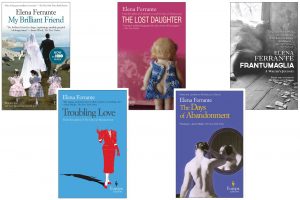 Neapolitan Novels
In The Neapolitan Novels Ferrante tell the life story of two perceptive and intelligent girls, Lila and Lenu, born in Naples in 1944, who try to create lives for themselves within a violent and stultifying culture.
The series consists of My Brilliant Friend (2012), The Story of a New Name (2013), Those Who Leave And Those Who Stay (2014), and The Story of the Lost Child (2015), which was nominated for the Strega Prize, the most prestigious Italian literary award.
The first appearance of her work in English was the publication of a short story, "Delia's Elevator". translated by Adria Frizzi in the anthology After the War (2004).
It narrates the movements of the title character on the day of her mother's burial, particularly her return to her safe retreat in the old elevator in the apartment building where she grew up.
The fourth book of Ferrante's Neapolitan quartet, The Story of the Lost Child, appeared on The New York Times' 10 Best Books of 2015. The first novel by Elena Ferrante after finishing the quartet, The Lying Life of Adults, was translated into English by Ann Goldstein and played with the stereotypical teenage-girl-coming-of-age structure.
Abstract
Elena Ferrante's Neapolitan novels are an account of the female friendship of Elena Greco and her most devoted companion, Lila Cerullo.
Novels are set in various cities of Italy, especially Naples, where brutality pervades each corner of the social sphere; through the friendship of these youngsters, Italy's political and social history are entirely introduced.
In reality, Ferrante builds up the elements of women's liberation by setting her main female character inside the late-twentieth-century Naples, where generally, man-centric structures decide to limit the imaginative, self-centered, and determined woman.
Based on the signification of feminism thoughts and gender inequality in the literary canon of the 20th century, this study utilizes various speculations of feminism, particularly French feminism, which are grounded based on the theories of Helen Cixous, Julia Kristeva, and Luce Irigaray to shed light on how Ferrante explores new types of female-centered experiences that undermine patriarchal structures by "écriture féminine ".
By Ali Salami & Yasaman Taheri